Early this year, I went on a family trip to Seoul, Korea! I have been missing Seoul incredibly much, ever since I spent nearly a month there in 2o13.
This series will be titled 'Seoul Diaries 2016'. I will be splitting details of my trip into several entries, each describing a particular event/moment.
Today's entry will be about the legendary Tosokchon Samgyetang!
Here's an awkward picture at their entrance:
Located near Gyeongbokgong, Tosokchon is well known for their Samgyetang (Ginseng Chicken Soup), so much so that I heard that you definitely had to queue to get in!
Fortunately, despite arriving at 1pm (which was technically lunch hour), we were admitted into the restaurant immediately! Perhaps it was because we went on a Monday?
Regardless, I did notice that most of the restaurant patrons were foreigners. Seated ahead of us were a group of Japanese, and beside us were a bunch of Chinese.
The menu comprised of different varieties of Samgyetang. I regret not having taken pictures of the menu, because it was so fascinating! It even have instructions on how to properly consume Samgyetang. Supposedly, you had to first drink ginseng wine, then transfer the chicken onto a plate and start digging in! The instructions were translated into a few languages, including English and Japanese, and included various illustrations!
Upon ordering 5 bowls of Samgyetang, we were given 5 cups of ginseng wine. I personally did not drink it as I am not particularly fond of ginseng. Those who drank it mentioned that it was a tad spicy.
And here is the lead, the famous Samgyetang:
I would be lying if I said I did not doubt the validity of all those positive reviews about Tosokchon Samgyetang upon seeing numerous tourists in the vicinity. I had assumed, initially, that the Samgyetang would not have been authentic. Having eaten a most delicious Samgyetang in Jeju Island years before, I was half-convinced that this would not compare.
Taking a sip of the soup and a bite of the meat made me pleasantly surprised. It was indeed as delicious as those Internet reviews made it out to be!
The soup was incredibly flavorful, and the chicken, doused in that unbelievably tasty ginseng soup, had absorbed the flavor perfectly.
I did not expect myself to devour the entire bowl. But I did.
Here's a picture of us before digging in:
In conclusion, I would say that the Tosokchon Samgyetang is definitely worth a try!
To avoid the long queues, perhaps visit the place at an odd timing on a weekday? I presume we were fortunate to have been admitted immediately during lunchtime because when we left, I noticed a queue forming at the entrance.
For those of you visiting the place, do take note that you'd be given a table number. Bring the slip of paper (?) bearing your table number to the cashier located near the entrance to pay.
Here's what the exterior of Tosokchon Samgyetang looks like: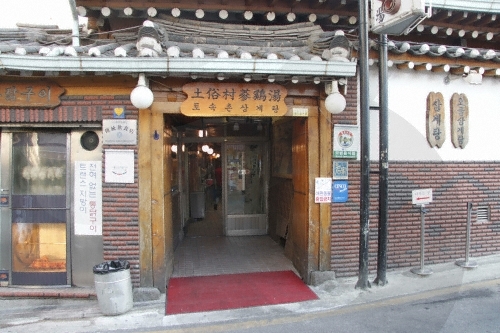 Credits: Imagine Your Korea
Upon exiting Gyeongbokgong station, a short walk would bring you to this scene: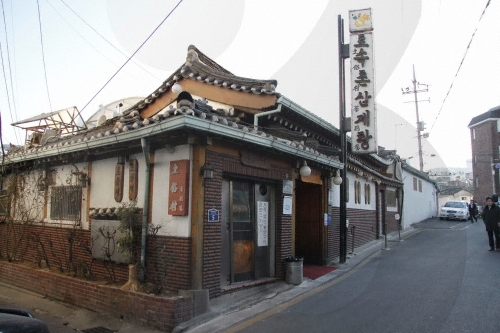 Credits: Imagine Your Korea
And this is their address:
5, Jahamun-ro 5-gil, Jongno-gu, Seoul




서울 종로구 자하문로5길 5 (체부동)
Til next time then! ~